During several months of the year, Humpback Whales and other species of whales and also several species of dolphins can be seen quite often in the waters of the Pacific Ocean.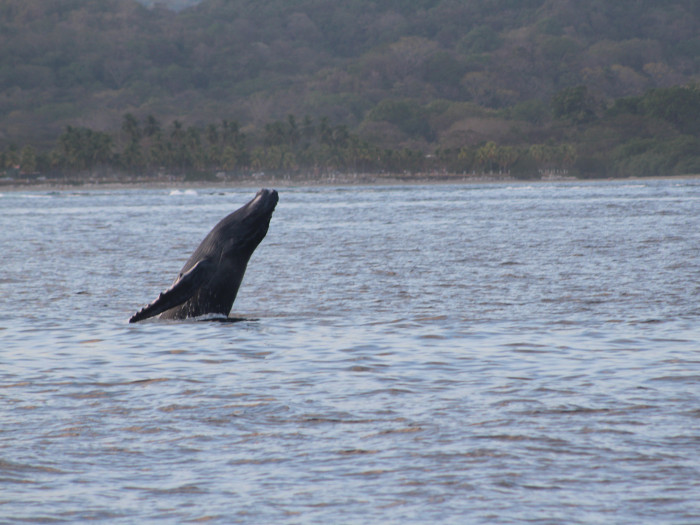 Humpback Whales come to the warm waters of Costa Rica from  July through the end of October and from December through late February.
The Humpback Whales that can be seen during July to October come from the Southern Hemisphere, while the ones from December through February come from the colder waters up north, specifically Canada and North West USA coast.
Watching humpback whales and the other species , which are less common but not rare either ( Pilot whale, Orcas and false Orcas ) provide an amazing spectacle for tourists as they watch them jumping and breeching.
They come to the  Pacific Ocean waters in order to give birth but more to grow the calf in the nutrient rich and also, comfortable and gentile warm waters of Costa Rica.
Whale Watching Sailing Tours
You can book a private sailing and whale watching tour in advance. Since there are very few catamarans and sailboats available, we highly recommend to book the charter in advance, as soon as possible, so that we can hold the boat and guarantee it is available for the specific date you are interested in.
Important:
During our private air catamaran whale watching tours, it is important to remember that we will intentionally NOT get as close to the whales as some boats used to do. We have implemented this new measure so as not to cause unnecessary stress to the whales, as especially during the above mentioned seasons, there are quite a few mothers with their babies in the waters of Manuel Antonio.
The mothers come to give birth, or raise their calves in the warm Central Pacific waters of Costa Rica, which is an essential part of the preservation of whale species, especially humpback whales, orcas and other species such as pilot whales.

Translated with www.DeepL.com/Translator (free version)
Private tours available from Quepos
– Half day Morning Tour 8 – 12
– Half Day Sunset Tour 2 – 6
– Full day Sailing tour 10 – 6
Boats available:
– Sailboats
– Catamarans
– Luxury Yachts
Beaches we serve
Quepos
Manuel Antonio
Marina Pez Vela
Hotel Parador
Makanda
Issimo Suites
Shana
Gaia Hotel and Reserve
Tulemar Bungalows
Hotel San Bada
Si Como No
Hotel Mariposa