Book your private sailboat or catamaran charter from Hotel El Parador Antonio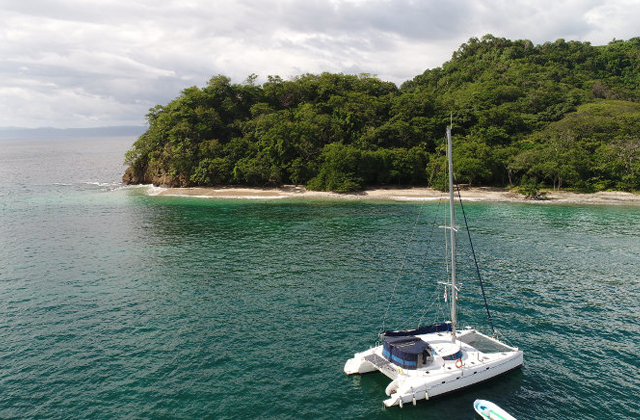 Tours available from Hotel El Parador
Our morning half day private sailing charter leaves at 8 AM and returns by 12 noon. During these 4 hours you will enjoy real sailing ( if wind permits it ), and you will get to see the beautiful coastline between Quepos and Manuel Antonio. The rugged coastline presents amazing scenery, with steep cliffs, coves and rainforest covered mountains. You will also enjoy snorkeling near a rocky reef near one of the nicest secluded beaches in the area. Open bar, snorkeling and food included.
The private sunset tour is perfect for those interested in watching the sunset from aboard the catamaran or sailboat. This tour leaves at 2pm and returns by 6 PM. It includes great service, open bar and cocktails, great food items, snorkeling and amazing sailing along the dramatic coast between Quepos and Manuel Antonio. Enjoy watching secluded beaches surrounded by rocky cliffs, rainforests and a lot of blue ocean and blue skies.
The full day charter goes from 10 – 6 PM, and is perfect for tyhose who wish to really go away for 8 hours. The Jewel of the Central Pacific, as people calls Manuel Antonio, presents amazing scenery, including hidden coves, rocky islets, islands and reefs, rainforest covered hills and endless blue Pacific Ocean. The tour includes a full lunch, open bar, snorkeling and custom designed sailing.
Hotel El Parador
This amazing luxury hotel is located on a peninsula between Quepos and Manuel Antonio. El Parador offers many different room categories, several restaurants and bars, lounges, library, concierge stands, several pool and a breathtaking location in general. It is not uncommon to spot red macaws flying around in the gardens. The ocean view is equally quite impressive.