Bachelorette Sailing in Manuel Antonio
Manuel Antonio, with its jungles and beaches, is undoubtedly an ideal destination to celebrate a bachelorette party, and enjoying a private sailing tour in one of our catamarans or sailboats is undoubtedly an unforgettable experience.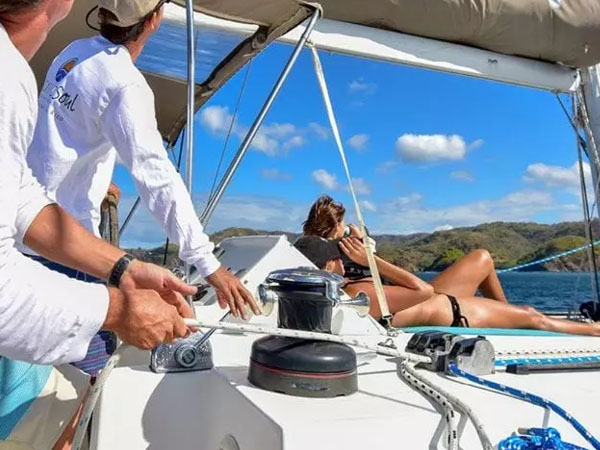 With our exclusive service, aboard our private catamaran or sailboat just for you, you will sail along the beautiful coastline between Quepos and Manuel Antonio National Park.
This route offers incredible landscapes, with cliffs, islets, hilly hills covered with jungle and small coves with small beaches.
During the trip, our onboard staff will serve you drinks, freshly prepared food and you can play your own music.
Optional included activities include snorkeling, paddle boarding and anchoring near a beautiful beach, where you can snorkel.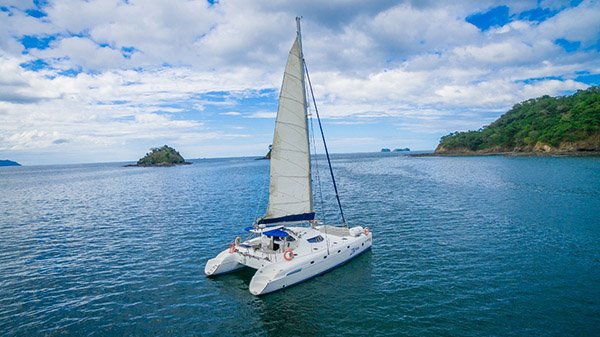 Sailing in Manuel Antonio 
Manuel Antonio National Park is one of the most famous tourist destinations in Costa Rica, thanks to its easy access, ease and variety of services including all types of food and lodging and its great variety of flora and fauna in such a small place, the park is among the most visited in the country.
Among the great attractions are the beaches surrounded by tropical zone. Because of this, the park attracts swimmers, canoeists, ecotourists and animal watchers. Manuel Antonio beach was rated in 2013 as the best beach in Central America according to the "Travellers Choice 2013" of the Tripadvisor website.
An important aspect of conservation, and due to the ease with which mammals such as pizote, raccoon and primates come into contact with tourists, is to follow the instruction "PLEASE DO NOT FEED ANIMALS", as they suffer from deformities when pregnant.
Some attractions of Manuel Antonio
-Manuel Antonio Beach
-Cathedral Point
-South Espadilla Beach
-Puerto Escondido
-North Espadilla Beach
-Serrucho Point
-Naranjo River Mouth
-Rey Beach
-Olocuitas (the largest), Gemelas (two small islands immediately north of Olocuitas) and Verde (northwest of Gemelas) islands
-Quepos Point
-Toro Amarillo Island
-Mogote Island
-City and port of Quepos.